We don't sell properties, either – you pay our coaches for knowledge and guidance, and that's all. They don't earn any sort of commission on property sales, so you know you are getting impartial advice from people who are experienced and successful in the game.
Matthew and Tua are real property experts. They haven't just successfully purchased one or two properties – they have multiple property transactions under their belts, and have made profits that are actually worth talking about. Between them, they have helped thousands of people succeed and build wealth through property. They walk their talk and know what they are doing. This is what makes Auckland Property Mentors leaders in their field, and you can rest assured you are in safe hands.
The experience they bring enables Auckland Property Mentors to:
Identify potential that others frequently miss. This can be the difference between making $50,000 and $500,000
Quickly identify issues that would make a property unsuitable, which prevents you from making costly mistakes
Understand the property cycle and know which strategies work in each of the phases it passes through
Know which strategies and which areas don't work
Adapt to the changing environment, including new regulations, taxes and changes in the economy and property cycle
Email us here,
phone us on (09) 522 7955,
visit the APM website,
or fill out the form at the
bottom of this page

This property in Otara was purchased in July 2017 for $500k. We spent $50k on renovations, which took seven weeks to complete. The property was then put on the market, and was under contract for $625k at the first open home (with a backup offer of $630k the next day). Our investor client was very pleased with their sale price, especially since a rival investor group had adamantly told us the property would not sell for more than $590k. The result was a $75k gross profit, (or $26k net profit after agent's and legal fees, insurance, interest, GST and income tax).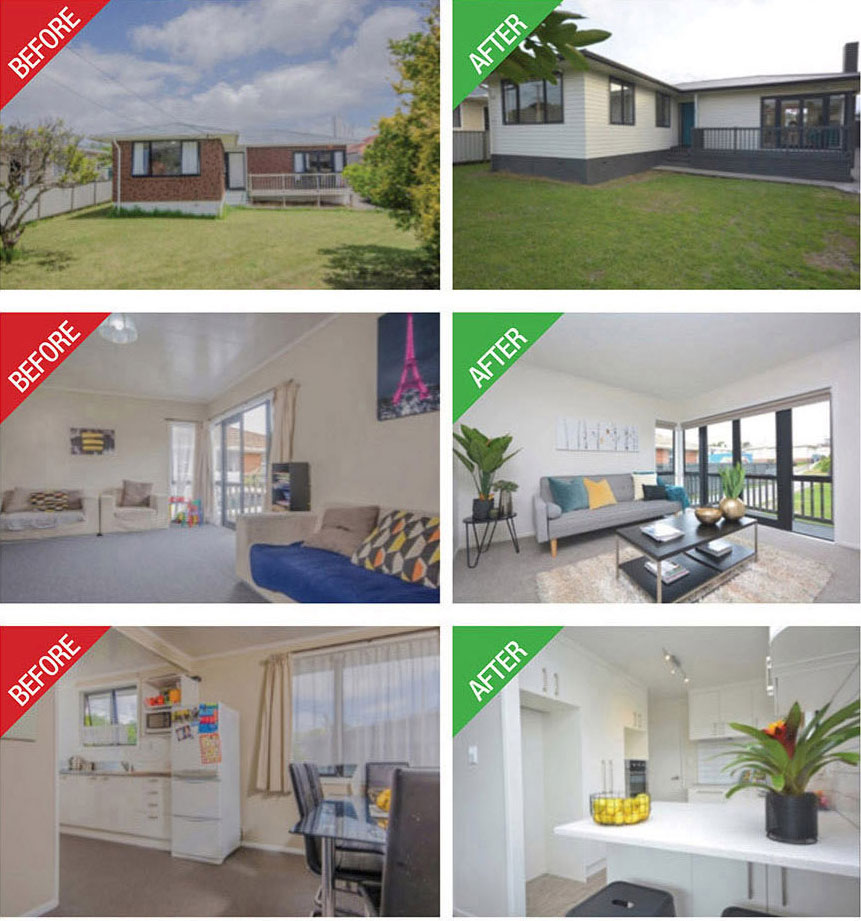 A three-bedroom house in Papatoetoe was advertised for sale and generated a lot of interest, with no less than six groups inspecting at the first open home. Tua wanted to see if the second lounge could be turned into a fourth bedroom without ruining the flow of the house, as this would add significant value. So, he walked in the back door, through the house, straight out the front door and negotiated the deal with the owner outside the garage there and then (on behalf of a mentoring student). Other buyers were still checking the hot water cylinder and faffing around doing their due diligence, but Tua's knowledge of prices in the area and how to add value to the home allowed him to act fast.
The property was purchased for $625k, renovations cost $50k, and it was sold seven weeks later for $735k. By adding a bedroom and sprucing the place up, Tua's client made a tidy $60k gross profit ($20k net profit) in under two months.