Working more hours is usually not the key to improving your wealth and long-term security.


Generally, you just end up treading water and getting nowhere.

Over the years, especially through the Global Financial Crisis (GFC), the markets have shown us that cash flow is king but the point of the cash flow is to build up and keep assets which create long term security for you.
In today's turbulent economic times, successful property investing requires risk analysis, hard work, and plenty of determination. You need to have knowledge about what to buy, when to buy and how to buy your way to a comfortable lifestyle and retirement so that you maximise your profit while minimising risk.
If you haven't started yet or if your existing property investments aren't doing so well (or worse, costing you to own them), we'd like to help you sort things out.
That's why we've created


Property School
Property School is a 7-module programme, with each module including approximately two and a half hours of video content, as well as articles and a quiz. We'll teach you how a little science in your property investing can help you progress forward and provide a more targeted approach to building your wealth than the 'let's give it a go mate' approach.
Upcoming dates...
DATE
TIME
COST
PLACE
No results found matching your query.
We don't believe in investing in property based on emotion and hype – we believe in numbers and long-term trends.
Like many investors, we are concerned about the potential for a correction in the Auckland property market, given it has gone up by 102% since the bottom of the GFC and prices began to soften in mid-2017.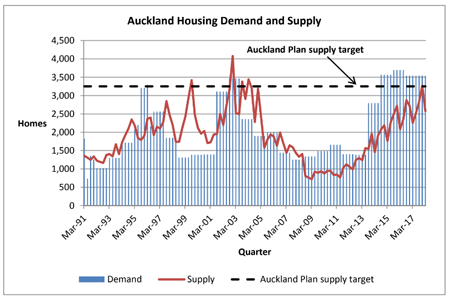 However, it is important to consider that underpinning this phenomenal recovery in values, which has eclipsed the rest of the New Zealand property market for growth, are strong core fundamentals. These include high average incomes and an incredible supply/demand imbalance from the historic highs we are experiencing through net migration and lack of land available in Auckland for development.
In addition, with the lack of affordability in Auckland, you might consider investing in the regions which are cycling behind Auckland for growth. But the regions come with risks, including poor supply/demand fundamentals, no or low growth, and returns that look good but in reality are terrible if you get the area wrong. Have a look at the graph of house price growth in Whangarei as a comparison - you can see that values were almost the same in December 2015 as they were in December 2007. It's a long time between drinks in some towns!
Although Whangarei has had good growth since December 2015, it is also important to realise that house values tend to be very volatile in small centres, and when the market cools, they crash much harder and for much longer than the main cities such as Auckland.
On top of this, consider the cost base for small centres and towns, as investors can easily get caught out by deferred maintenance. Every few years or so, big ticket items will need replacing, e.g. roof, hot water cylinder, kitchen. The cost of replacement is the same in Auckland as it is in a smaller town, but represents a much greater proportion of the value of the small town property. This can significantly eat into (or completely erode) any capital growth the property has experienced.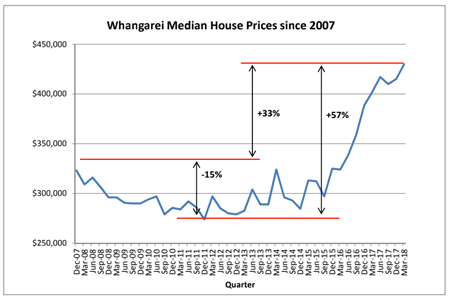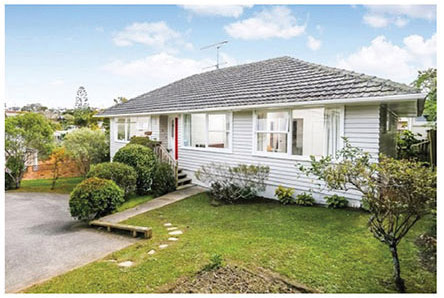 One of the things we teach you is how to avoid areas with lower growth fundamentals that represent poor investment options and higher risk. These are exactly the areas that real estate agents and uninformed investors will plough their money into, thinking all property is equal – but it's not. Come and learn why at Property School and avoid making rookie mistakes.
In addition to managing area risk and avoiding 'property lemons', you need to learn a lot more to be a successful investor in the current environment. There are many property investment strategies that simply don't work in Auckland at this time, yet there are strategies that do work despite the low yields and the market peaking. But the types of things that our property director, Matthew Gilligan, does in Auckland that are working, don't necessarily transfer out of Auckland where the market conditions are different. You therefore need to learn multiple strategies and how to apply them in different environments before you can call yourself a well-prepared property investor.
Tax and finance
Another thing we discuss at Property School is how to avoid becoming a victim of a shock event in the economy. This involves a combination of choosing the lowest risk property investment strategies coupled with appropriate taxation, asset protection and finance structures. For years GRA have been forefront leaders in New Zealand at designing taxation and asset protection structures for property investors and controlling the financing arrangements to minimise the ability of banks to harm your family interests in the event of serious financial problems ensuing in your household. In the tax structures and finance module, we run over the basics of this process of being one step ahead of the banks and the IRD.
Portfolio building and yield analysis
One of the things seasoned investors understand is that some strategies, despite being fantastic, simply are not financially viable in all households. Plainly speaking, investors need to choose strategies that are financially viable and appropriate for their circumstances. You also need to become familiar with property vernacular and the numbers pertaining to property investment. Additionally, it is important to understand how tax affects your return, and part of your commercial planning and choice of strategies requires you to pick the most tax-effective strategies.
We run over portfolio building, tax implications of property investment and yield analysis in Property School to make sure you are properly prepared to make the right choices. If it is all too hard and over the top, you can always hire one of our consultants to work it out for you, but our primary goal is to educate you and empower you to do it yourself.

Property School will cover key areas you need to be aware of when looking to purchase an investment property. You will hear from GRA directors Matthew Gilligan, John Rowe and Salesh Chand, as well as guest speakers who are experts in their respective fields. They will share with you their tips, strategies and knowledge to get you on track and move your financial affairs and wealth ahead. In particular, we'll show you:
Fundamentals of property and how to use cycles and market analysis to reduce risk
Property numbers and how to analyse deals, taught thoroughly by chartered accountants
The most frequently used property investment strategies that will make you money
How to set a pre-determined path to buying an investment property portfolio that is sustainable
How to choose the right property investment for your particular circumstances
The different stages our economy goes through so you can make optimal financial decisions for yourself
How to identify the various phases the property cycle passes through and how to change strategy to take advantage of them
Ways to obtain finance to buy your own home and grow your property investments, safely
How to use the right tax and legal structures, like trusts and companies, to protect your assets and wealth
Auckland Unitary Plan and land banking: how to use subdivision potential to increase your wealth creation
Sensible, smart renovating techniques to increase the value of your property
Constructing a property plan, buying rules and maintaining momentum
When NOT to invest
And lots more ...
What our clients say about


Property School
Hi Matt, I have just attended the property school and just want to say it was really a worthwhile experience doing it especially for me who is planning to start as an investor (or trader). Thanks again for sharing your invaluable knowledge.P.S. Have also told my friends/colleagues, who are also interested on property, to attend the next property seminar. - Brian
To educate you must entertain. Property School was both informative and fun. I could not have coped with a boring session after a day in the office. The things I found most valuable were learning about the property wealth wheel, the value of trusts, credit lines and Life Online (which I will use again in the future). I got a lot out of it and have already recommended Property School to friends. - Peter M, NOV 2018
What I enjoyed most about Property School was the great willingness of speakers to let us interact, energy of speakers is massive! Planning strategy going forward, motivation and what mindset/approach is required to do subdivision were the highlights for me. - Anon. MAY 2018
Overall I would rate Property School with a A+. I particularly enjoyed Matthew's presentation on subdivision. It felt like you really care about your clients. - Ross. OCT 2015
I read Matthew's book Property 101 and then came to Property School. I have to say there is nothing 101 about either of them. Between the book and Property School you learn that there is a lot more to property investing than meets the eye. There is no doubt in my mind that GRA are a cut above the rest when it comes to property education and planning. Impressive for a chartered accounting firm – they really know their stuff! - S.C. APR 2016