Taxation Consultancy & Advice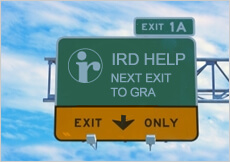 Everyone has to pay their share of taxes, and we have no qualms about that. But there are many things that you can deduct, and things you can do, that reduce your taxation obligations legally, with minimal risk.
Plainly speaking, our role in your business from a tax perspective is to review your current taxation planning, and make sure you are paying the minimum amount of tax that you have to pay.
The hugely popular and effective process that we use (which we have been running for over 20 years now), is to review your affairs from the broader view as asset planners.
Not only do we deal with your taxation needs as part of the review, but we look at your Asset Protection Structures and Estate Plans, making sure that the 'big picture' of your structures is right, while (at the same time) dealing with taxation planning in your affairs.
We call this 'holistic advice' - integrated taxation and asset planning services. And it's how we're different from other 'dinosaur' accounting firms that you may be familiar with.
This difference means we get you to your goals faster - without pain.
A simple and powerful 5-step process
Here's how our process works:
Step 1: Book a meeting to review your position.
Step 2: Collect and review information from you, including your current taxation and asset protection structures (trusts etc).
Step 3: Next, we come up with any improvements that can be made, and discuss them with you. During the meeting, we give you a cost-benefit analysis including all costs to implement, such as setting up trusts, conveying assets, valuing shares, moving property, setting up gifting programmes, etc.
Step 4: If acceptable to you and you choose to proceed, we will write a comprehensive report with diagrams of your current and proposed structures to help you understand how it all works and fits together. It will include full commentary, advice and recommendations. Included in the report will be advice to your solicitor on what we need them to do, banking instructions on how to structure or restructure debt, and advice on what you need to do yourself. It's all presented with checklists to make sure everything gets done.
Step 5: Finally, we provide follow-up with advice and support to you, your solicitor, banker and other advisors as required during and after the restructure process.
NOTE: Some clients wish to retain their existing accountants, and use us as experts in this area. That is no problem to us - we are happy to work in with your existing law firm and accountants, or we can replace your accountants and work in with your solicitors. We'll give you the options and our recommendations.
New Zealand-wide service
We can provide our services all over New Zealand. We travel the country regularly, and hold meetings by phone and on Zoom video conference routinely for national and international clients.
---
Taxation Compliance Services
GRA's Taxation Compliance Division (as opposed to the Taxation Consultancy & Advice Division above) prepares financial statements and taxation returns for many types of organisations.
Everything from large companies and small to medium sized businesses, to property-focused salaried employees investing in rental properties.
In fact when it comes to property (in any form), we'll be managing annual accounting needs somewhere in our practice.
Who might be our client?
GRA has a hugely broad range of clients including:
Hundreds of property investors, ranging from waged and salaried employees with one or two rental properties, to larger property clients including developers and large dealers in property.
Small to medium sized businesses, turning over from $5,000 up to our largest clients with $100m+ turnover. Most of our clients have turnovers between $50,000 and $10m, a typical distribution of Kiwi businesses.
What sectors & industries do we represent?
All sectors are represented at GRA. This means we can take lessons learned from other businesses and apply them to yours if appropriate. Of course we are careful not to disclose any information about our clients' businesses to any third party unless authorised to do so.
Sectors and industries represented by us include:
Farmers
Retailers
Realtors
ICT industry
Manufacturers
Importers & exporters
Architects & draftsmen
Anything property
Professional services firms, including solicitors and financial services firms, architects and engineers
Other types of people, businesses and traders we represent include:
Small investors
Large investors
Developers
Property traders
Lease option investors
Rent by the room investors
Kiwis investing offshore
Expats investing in NZ
Rental property managers
You name it in property, we manage annual accounting needs for any type of business in our practice. We are property accounting and small to medium sized business specialists.
Business compliance: the GRA approach
Our approach in the Compliance Services Division is to:
Meet you to review your needs, both for internal management accounting and to look at your year end compliance accounting services. Additionally, we consider your provisional tax requirements, GST and other tax types, and any special requirements you may have, to comprehensively (or partially) manage your taxation affairs.
Provide a quotation for your accounting services to ensure you have certainty regarding exactly how much we are charging and for what.
Write to your old accounting advisor to request transfer of your records, making the record transfer process easy and seamless for you.
Manage your affairs carefully throughout the year, including collecting the records from you at year end, managing any GST requirements you may have, E-filing your taxation returns to speed up any taxation refunds, and filing all statutory and accounting returns with the relevant authorities on an ongoing basis.
Disputes and problems with IRD
Taxation problems can arise for many reasons. Whether it is a mistake made by you or an advisor to you, an unfair view being formed by IRD, or a serious problem arising from a perhaps short-sighted action on your part, the issue is the same. How do you solve the problem and make it go away so you can get back to focusing on core business and get on with your life?
Our general approach to IRD problems is as follows:
Review your issue.
Form a view on your legal position - are IRD right?
Form a strategy to resolve the problem, whether it be to negotiate a settlement for you with IRD and try to minimise penalties, or fight for your position by instructing and running full litigation via a barrister of our recommendation to you.
Keep you informed throughout the process, and try to manage costs to a minimum.